Triumph Herald Book - NEW!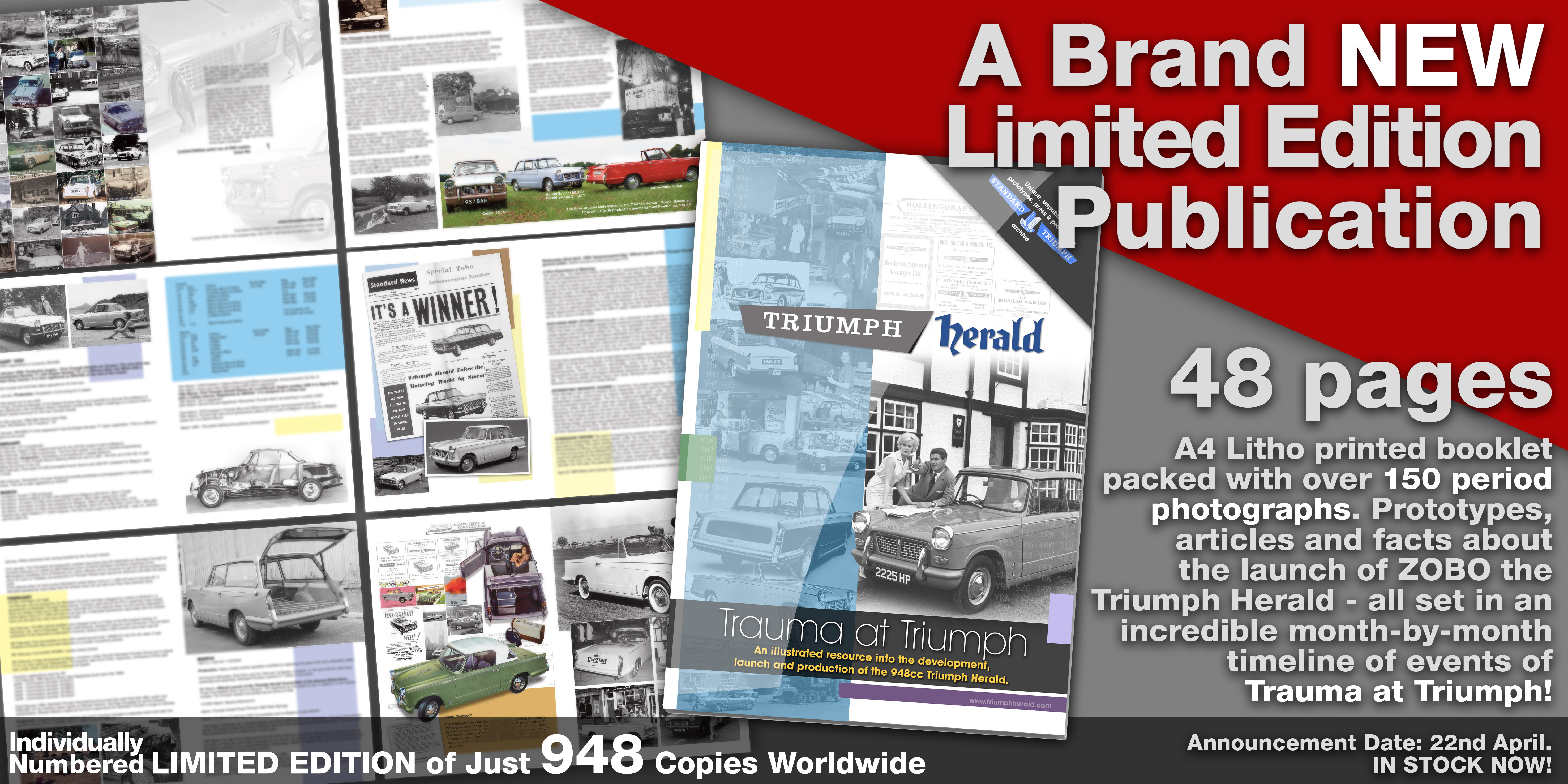 A beautifully presented brand new book available documenting the development, launch and production of ZOBO - the Triumph Herald.All proceeds support the Standard Triumph Works Employee Register and Archive.

Featuring over 150 rare period photographs, articles and memorabilia this Limited Edition 48 page book takes a look into the incredible journey of the Triumph Herald - against all the problems of suppliers, cashflow, management and disruption - the popular Triumph Herald came out on top!

The book follows a month-by-month timeline from the initial concept through the first years of production and up to the takeover by Leyland Motors in 1961. Featuring key dates and cars this is a fantastic resource and must for fans of Triumph and the Triumph Herald.

Limited to just 948 copies worldwide. In stock and available NOW! Once sold out it will NEVER be available again.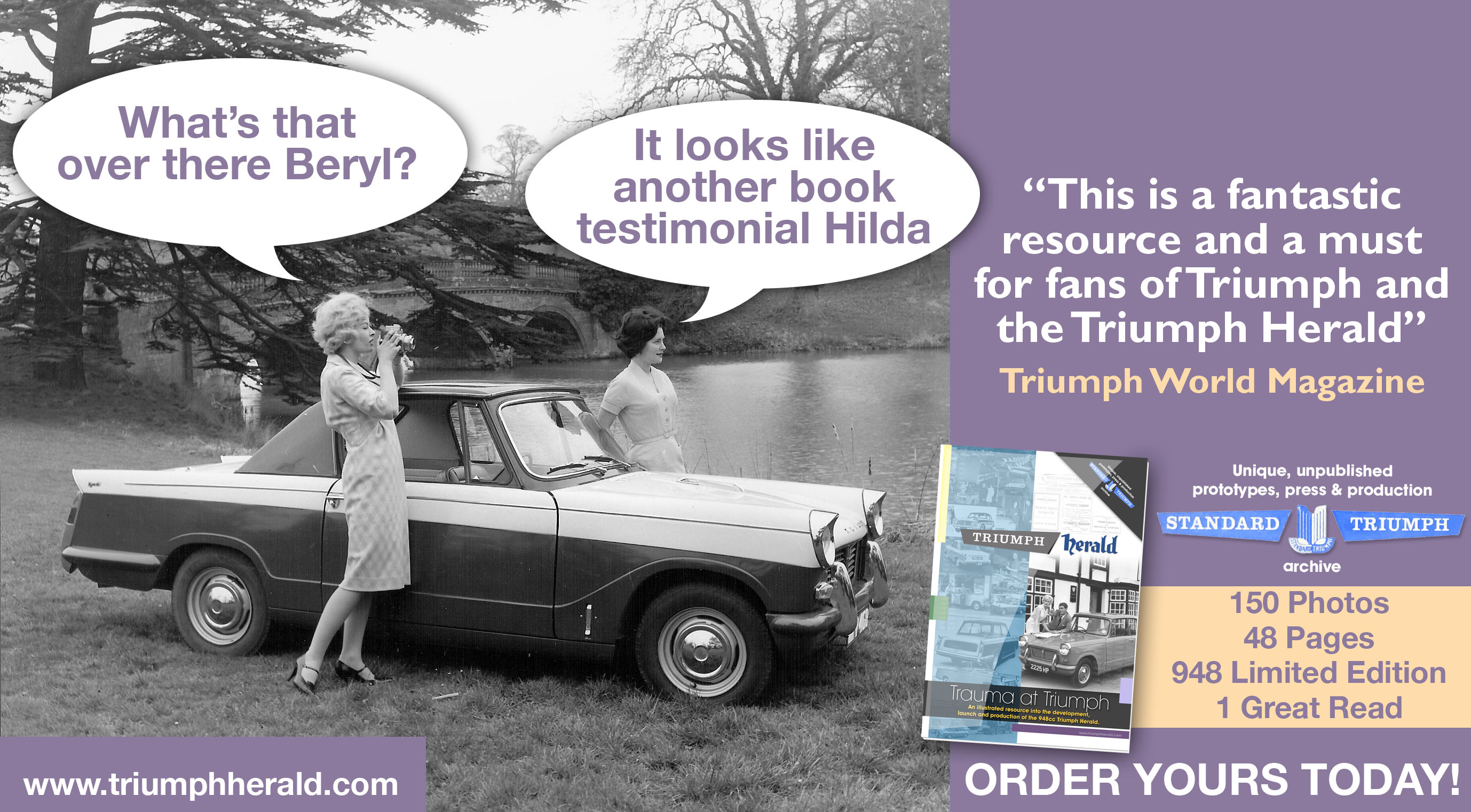 "If you are interested in the history of our cars then I thoroughly recommend this book" Phil Willson, TSSC (Triumph Sports Six Club) Courier Magazine. #123

"Got mine today and I have to say, WOW, it is a fantastic publication and a lot of work gone in to produce. Thanks for doing this. I am delighted with the book and I cannot recommend it enough, all Herald owners should get a copy. Well done to all concerned." Ken Nolan, Dublin #47

"My 'Trauma at Triumph' safely received this morning, and duly whizzed through at high speed! I'm very impressed, not only by the production but also the concept - what a brilliant idea!" Mike Costigan #7

"Worth every penny, every Herald owner should have one!" Leon Guyot #80

"Brilliant bit of work. Love this book." Angus Hart, Somerset. #86
"Molto interessante e molto ben curato. Perfetto per chi vuole saperne di più sulla Herald"
Trans: "Very interesting and very well cared for. Perfect for those who want to learn more about the Herald." Giancarlo Cavallin, Brescia, Italy. #41

"Number 49 here in Adelaide, Australia!! A great read, congratulations on getting it published." Darren Denley, Adelaide. #49

"Just received my copy, wow , worth every penny, I've known Heralds from when they first came on the road my father bought a new Alpine Mauve 948 saloon August 1960! I learnt to drive and pass my test in 5yrs later, This book is a 'must have' for anyone who loves Triumphs. Great to add it to my collection! Big thank you to everyone who has made it possible." Mike Hadley, Devon. #201

"Just received mine……great effort." Steve McCready, Adelaide #71
UPDATE: Books have been sent out all over the world including: Australia, New Zealand, USA, Ireland, Finland, France, Belgium, Germany, Norway, Sri Lanka and Italy. Due to two customer comments new packaging is now being used with thicker card inserts to stop the postman bending books upon delivery.