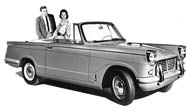 Home
Introduction
Latest Updates & News
948 Fate
Colour Schemes
Stories
Triumph Herald Cine Film
Archive Gallery
Triumph Herald Launch

Historic Heralds

NEW
Coupe Commission No's
Movies
Triumph Herald Racing Game

NEW
Trauma at Triumph
Disputes and News from 1960

Links


Featured Sections


Triumph Herald Database
A list of known cars existing and details of cars long gone
more…
Turn Left to Tangiers
The expedition through Africa featuring Triumph Herald prototypes more…

Turn Left to Tangiers
NEW Colour Slideshow more…

NEW Triumph Canley Works
Period Canley Triumph site photos with overlays how the site is today more…

Triumph Herald Rally Cars
Take a look at our archive of period photographs and details including Monte Carlo, Rac and Tulip rallies More…

Email Us:
info@triumph-herald.com
We are especially looking for any information on existing 948cc Triumph Herald saloons, coupes and convertibles (in any condition, full or part cars), ex owners of 948cc Triumph Heralds long gone and any ex Standard Triumph employees or their families. Help us build the information and share it with everyone!


Triumph Herald Export Figures (BETA)
We have always believed the Triumph Herald was a 'world' car as it was exported all around the globe - you name the country and it would have had a 948cc Triumph Herald! Whilst an export success this meant problems. Problems with demand outstripping supply both with new cars AND parts. When the Convertible was launched in 1960 the majority of cars were sent abroad, if you wanted one in the UK, you'd have to wait until the Autumn - that's after the summer; not ideal!
Official figures* do exist from a number of different sources albeit, they may simply be using the same information. We are going to confirm every Y commissioned Coupe and Convertible destination to establish a definative, accurate list. This will take time though so bear with us! We'd also add 'official lists' especially with CKD cars do not include 'Personal Export' cars which will inflate the final figures.

So far we can work off the following numbers, those marked with an asterisk (*) are official numbers:

Official Production




Saloon


(1959-1964)



76,860


Coupe


(1959-1961)



15,153
Convertible


(1960-1961)



8,262
Country

USA

(Y143L)



Canada

(Y665L)



Australia (CKD)

(Y11)



Belgium (CKD)

(Y48) (G68L)



New Zealand (CKD)

(Y339)



Ireland (CKD)

(Y56)



South Africa (CKD)

Phillipines (CKD)

Total (Export)
Saloon

3,612*

(All)



-

6,743*

(All)



-

-

-

-
Coupe

1,049*

(All)



-

3,622*

(All)



744

(Part)



229

(to Y7000)



396

(Part)



384

(to Y7000)



-

6,424
Convertible

2,822*

(All)



161

(Part)



960*

(All)



108

(Part)



2

(Y20k-Y21K only)



48

(Part)



96*

(All)



24

4,221
Country

UK

(Y1)



Europe:
Portugal

(Y668L)


Germany

(Y672L)


France
Spain
Holland

Cyprus

West Africa
Cambodia
Rhodesia
Algiers
Libya
Tunisia

Japan
Taiwan
Hong Kong

Peru
Ecuador

Bermuda
Jamaica
Trinidad
Barbados
Antigua
Grenada

Asia
Phillapinnes

Personal Export

Other**
(Not Split down yet)



Saloon

-

Coupe



(Less Than)

8,267


50

(to Y7512)


61

(to Y7512)








1

(Y20k-Y21K only)
























660 (to Y7512)
50 (Y22+ only)

Convertible



(Less Than)

3738


(E=4221+303) 55%



--
8

(Y20k-Y21K only)


28

(Y20+ only)


2

(Y20k-Y21K only)


1

(Y20k-Y21K only)



2

(Y20k+ only)



3

(Y20+ only)


2

(Y20k-Y21K only)


1

(Y20k-Y21K only)


1

(Y20k-Y21K only)


1

(Y20k-Y21K only)


2

(Y20k-Y21K only)



2

(Y20k-Y21K only)


1

(Y20k-Y21K only)


9

(Y20k-Y21K only)



3

(Y20k-Y21K only)


2

(Y20k-Y21K only)



3

(Y20k-Y21K only)


5

(Y20k-Y21K only)


10

(Y20k-Y21K only)


1

(Y20k-Y21K only)


2

(Y20k-Y21K only)


1

(Y20k-Y21K only)



-
24

(Y20+ only)



20

(Y20+ only)




24 (Y20+ only)
115

(Y20+ only-

8/9/10)



30

(Y15k+ part)
(Commission Number is brackets is the first car in each particular country)



Triumph Exports

The tables above will be completed soon, to establish each export number. The figures will include personal export, mass exports and CKD cars (See below)
Triumph CKD Kits
CKD (Complete Knock Down) we cars sent to 'satelite' factories overseas to build there. Each country had a prefix code and consecutive number thus: DHC for Australia, HHC Belgium, JHC Ireland, SHC South Africa and KHC New Zealand. Batches, after initial trial consignments, were of 12 cars.

Details for CKD's will be listed in the full Y Commission listing and pulled out here for reference:
Y160-165
Y208-350
Y601-648
Y1115-1426
Y1828-2067
Y4647-5246
Y5658-6137
Y6568-Y7215


Australia AMI Figures CKD Kits

Model

Saloon
1959
1960
1961

Saloon (TC)
1959
1960
1961

Coupe
1959

1960
1961

Convertible
1959
1960
1961
1962



Built


1758
3920
1065



1174
196


406

2439
777


-
747
205
8
Comm Numbers












Y231-Y302, Y915-Y938, Y1151-Y1330,
Y1924-Y1947, Y1985-Y2055, Y2623-Y2754
Triumph CKD Codes (added as a Commission number suffix on some cars)
aaaaa
Country
Belgium 1
Australia 2
New Zealand 3
South Africa 4
Malta 5
India 6
Eire 7
Philippines 8
Peru 9
Portugal 10
Israel 11